August 2018 President's Message
Hello, Fisherpeople!
I complained all winter and spring about the weather, so I got my wish granted to me with warmer weather, but I did not mean 90 degrees. Be careful what you ask for!
Last Saturday four of us left Bass River on the Pythias, heading for Nantucket to look for big sea bass. There were small craft warnings, heavy waves, wind, and some rain. This all adds up to uncrowded conditions. We found ourselves one of only two boats fishing until the Helen H showed up. Although Capt. Damon put us on fish, the older guys with me paid a price on their bodies with the rocking and rolling. In hindsight, perhaps we should not have gone out. Or as my wife later said, "DUH!!!"
The Captain Bob Luce Memorial Tournament and the first Barbara Luce Memorial Tournament were a big success. The bright spot is that two Barbara Luce teams outscored all the seven men's teams, with new member Lesley Callahan getting the top fish at 43". June Noll was second at 41", and then Maryellen Mara-Christian at 35.5". On the men's side, Howard Mulhern and I tied for first at 39", and Ed Burke and Rich Kelley tied for third. I think it's great for the club that Lesley and June got these nice fish; of course, they both already have fifty pounders to their credit, joining new member Georgiann Kucia.
Just so everyone knows, Randall Sherman's second knee replacement was successful, and he is working hard at rehab right now. When I see him with a quahog rake in his hand again, I will know he is all right.
Looking ahead -- please go to the Events section of our webpage and print out the application for our
October 24
Fish Dinner.
Here is a summary of the August 8th article in the Cape Cod Times about the Alliance to Protect Nantucket Sound. I hope you read it and are prepared to vote on whether or not to endorse this letter. The fact that commercial and recreational fishing is to be protected is encouraging. The question I will try to get answered before our meeting is whether or not some historic commission group would have control over such things as building a reef.
Please do some research ahead of our
August 22
meeting.
"HYANNIS" The Alliance to Protect Nantucket Sound is asking for Congress to help the organization accomplish its goals.
About 40 groups have signed a letter asking U.S. Sen. Edward Markey, D-Mass., U.S. Sen. Elizabeth Warren, D-Mass., and U.S. Rep. William Keating, D-Mass., to sponsor legislation to make the Sound a national historic landmark for its "historic, environmental, cultural and tribal resources."
"Our outreach is broad," said Audra Parker, president and chief executive officer of the Hyannis-based nonprofit agency.
The legislation would also explicitly prohibit leases or permits authorizing energy generation projects in the Sound, with specific wording to protect commercial and recreational fishing and to protect transmission infrastructure used exclusively to connect offshore wind farms to mainland grids.
The Sound extends from the southern shores of Cape Cod to Nantucket and Martha's Vineyard, across state and federal waters. The Sound already is listed in the state's Register of Historic Places for 11 towns on the Cape and Islands, according to state records."
Fishing rights and conservation are part of our club's mission. Habitat degradation is not in the interest of our fisheries or our club member's pursuits. I urge each of you to take a look at this article and be ready to discus at our next meeting.
Thanks, and hold tight!
Jack (
jecreighton45@gmail.com
, 508 394-2983)
Club News and Information
August Meeting Speaker
August's Speaker is Peter Johnson of Roberts Lures
---
July Meeting
We had a late start to the meeting this month due to a mix up with the keys to let us in the building but we made it in eventually.
President Crieghton was concerned over whether to support the Alliance to Support Nantucket Sound and suggested that we get the answers to several questions before voting on whether to support them or not, that information will soon be passed to the membership for consideration.
The club is in immediate need of several officers. The Secretary and President positions will need to be filled. If you are interested in either of these positions please make you intentions known as soon as possible. This way you can learn from the people who are now doing these jobs so well. The continued support of the members is always needed to continue the success of the club and the good work it is doing.
Vice President Randall Sherman gave a brief report on the Hook, Line and Eel event put on by Riverview Bait & Tackle. The Salties participated in this event last month by sharing their know how and experiences with novice fisher people. The modest entrance fees to this event that totaled $165.00 were donated to the Cape Cod Salties Foundation, and on top of that Riverview made their own donation of $2500.00 to the foundation, this needless to say was an incredible gift.
Please remember next time you are in their store to wear your Salties hat and thank them for all of us.
Flyers promoting the foundation were dropped off at all the local tackle shops and the town of Yarmouth was petitioned to let us distribute the flyers at the boat ramp. Randall will let us know how that turns out.
Fundraising is incredibly important to the foundation to keep it going and able to do all the things that are planned. There was a challenge put forth to everyone, if you believe in the work that the foundation is doing then please donate. Any amount is helpful, also to solicit contributions from other sportsmen and women that will benefit as well.
The Tessen Scholarship this year was warded to Benjamin Bohnenberger of Mashpee High School, who plans to attend Colgate this fall. His letter was so impressive that he was also awarded the Brewster Scholarship as well. The Dagget Scholarship was awarded to Kevin Liu, he plans on attending UMass Lowell this fall while majoring in physics and chemistry.
Last month the club had it's annual Fluke Trip aboard the Helen H. There were a lot of nice fluke coming over the rails with most anglers catching 3 to 5 keepers. Below see Jay Pavick with his 8.4lb and Ed Burke with a double digit fluke. Note that Ed's doormat was caught using a Joe O'Clair custom fluke rig. They are available from Joe, give him a shout.
And here is John Sorcinelli with another double digit fluke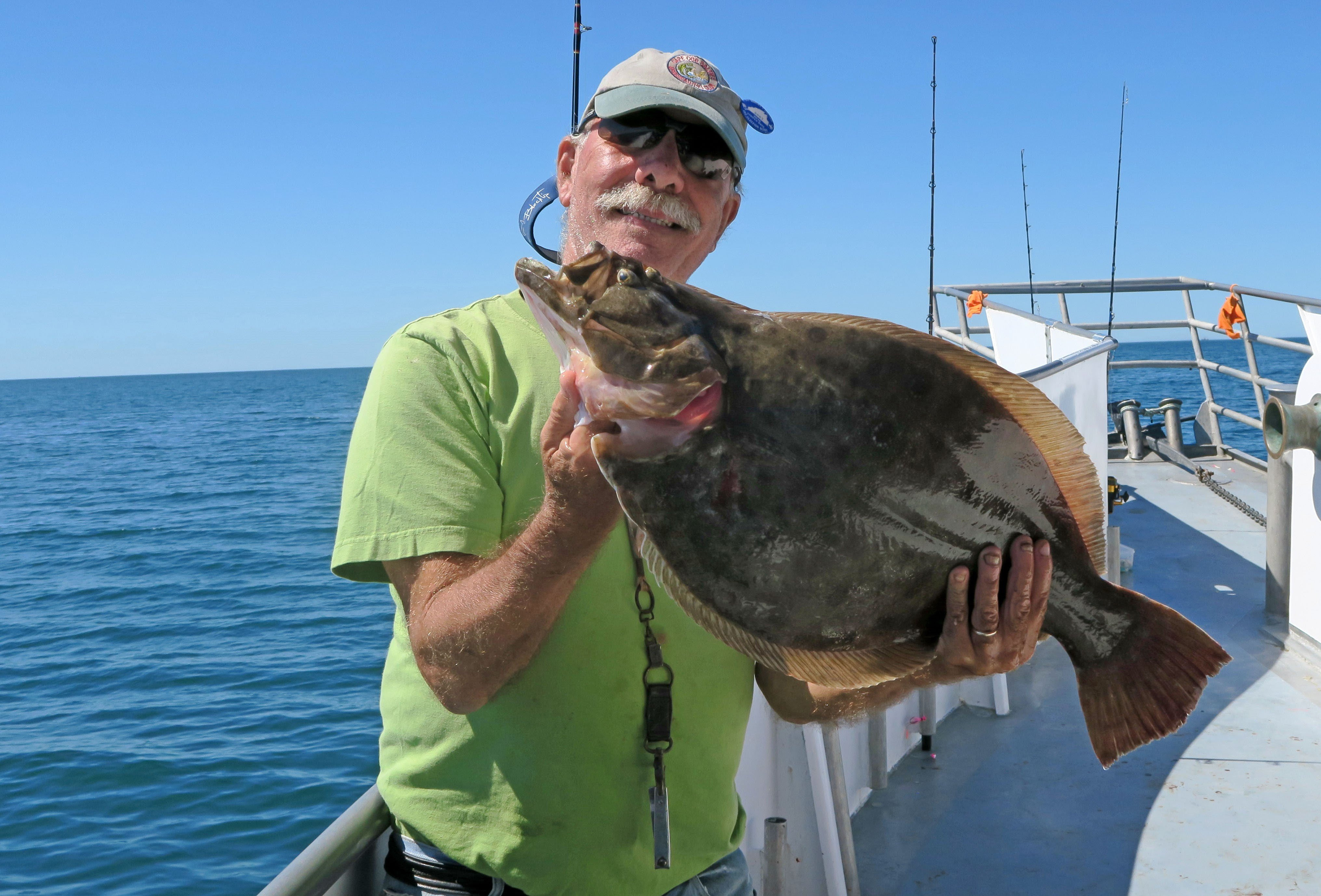 There were also some rally nice Black Seabass caught as well. As always the Helen H did a grat job of keeping them on the fish.
A reminder to all of you out there fishing, it seems the great white sharks out there are figuring out that following a fishing boat is a good way to get a free meal. Be especially mindful, not to mention careful bringing in the fish and reviving them when putting them back.
---
Environmental Affairs
New England Fisheries Management Council will be addressing the Herring Amendment
December 25-27, 2018
(We will confirm the date as I doubt they will hold the hearings on Christmas Day). Anglers are encouraged to attend the meeting. More information will be forwarded as it becomes available.
The club will be holding the annual Cape Cod Canal clean up on
September 29th, 2018
. This is always a great day where there is good food, good fun and for as good cause. If you are interested in participating please contact Bill Cottle.
This poem was found and submitted by one of our members. Take a look and send any comments to Ron.
A Display of Mackerel
BY MARK DOTY
They lie in parallel rows,
on ice, head to tail,
each a foot of luminosity
barred with black bands,
which divide the scales'
radiant sections
like seams of lead
in a Tiffany window.
Iridescent, watery
prismatics: think abalone,
the wildly rainbowed
mirror of a soapbubble sphere,
think sun on gasoline.
Splendor, and splendor,
and not a one in any way
distinguished from the other
nothing about them
of individuality. Instead
they're all exact expressions
of the one soul,
each a perfect fulfilment
of heaven's template,
mackerel essence. As if,
after a lifetime arriving
at this enameling, the jeweler's
made uncountable examples,
each as intricate
in its oily fabulation
as the one before
Suppose we could iridesce,
like these, and lose ourselves
entirely in the universe
of shimmer would you want
to be yourself only,
unduplicatable, doomed
to be lost? They'd prefer,
plainly, to be flashing participants,
multitudinous. Even now
they seem to be bolting
forward, heedless of stasis.
They don't care they're dead
and nearly frozen,
just as, presumably,
they didn't care that they were living:
all, all for all,
the rainbowed school
and its acres of brilliant classrooms,
in which no verb is singular,
or every one is. How happy they seem,
even on ice, to be together, selfless,
which is the price of gleaming.
At the July meeting we were lucky to get a visit from Al Gags himself, he of Al Gags Lures.
His lures have evolved over the years to the plastics that we use today, expertly made right down to the angle of the paddle tail. He puts his years of fishing experience into his designs making it easier for all of us to catch fish.
He told us how in the right situation you can catch fish regardless of the tide.
Al presented a great short video of some anglers catching some really nice fish at the Cape Cod Canal. There testimonial and results were impressive.
---
SEPTEMBER 29th

SAVE THE DATE
THE CANAL CLEAN UP
This is always a great event. There is always good food, good people and we do a little good for the environment while we are at it. Please sign up at one of the monthly meetings before this date.Many hands make light work!!
We have some great Fish Tales for you this month

Barbara and Wayne Butler had the privilege of helping Joe Branzetti celebrate his 90th birthday. Went out with Joe, his son Joe and grandson Nick for a day of fishing in Barnstable Harbor. Picture shows the 3 generations and includes a nice schoolie striper caught by Joe Sr.


Here is great picture from the

July 13th

Luce trip


Look at the smiling faces of these ladies on the

July 2nd

Luce trip

Lesley Callahan winner of Ladies Luce Tournament with a 43" striper

---
Please Support our Advertisers